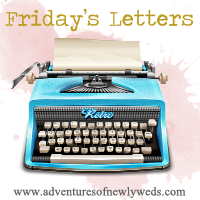 Dear Local Radio Station: Hearing you play The Civil Wars and more Florence + The Machine makes my heart happy.
Dear Mom: Thanks for putting up with me for the past 34 years year. You've let me invade your home for a little over a year and I will be eternally grateful.
Dear Moms on Toddlers & Tiaras: Please don't complain that your 5 year old is a control freak and it's tiring to deal with her. Hmmm...where do you think she might get this attitude from?! And acrylic nails on a 6 year old? You have GOT to be joking!!
Dear New Blog Followers: Welcome! I am absolutely thrilled to have you and beside myself that you think I'm funny/cool/awesome/fabulous (I'll let you choose).
Dear Buckie (that's the name the kiddo gave to my car): We've been together for almost 6 years now. You've done a fabulous job keeping me and the kiddo safe. I'm sorry I don't bathe you more often. I would say that I would try harder, but we both know I won't.


Dear Rain: Please hold off today so I can move the rest of my furniture.


Dear Face: We are 34. Stop acting like you are 13, mkay?


Dear S: I'm sorry. I really wanted everything to work out and I wish you nothing but the best. I hope you know that.