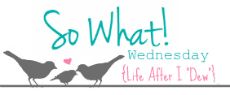 Linking up with Shannon at Life After I 'Dew' for So What! Wednesday!
Today, I'm say SO WHAT! if...
It's 90 degrees outside and I'm wearing a jacket inside.

I haven't picked up my camera in almost a month (isn't that what phones are for?)

I can't wait to watch SYTYCD tonight. Yes...I am a reality TV junkie.

I've had the same song on repeat for the past two days and have probably listened to it 50 times.

I'm sad at the end of a good book because I really want the story to continue.

I'm addicted to Pinterest but will probably NEVER make/do half of the things I pin.

I get really (and I mean really) giddy when I see that I have a new blog follower!

I've been on hold for over 10 15 20 minutes waiting to talk to a supervisor and I want to reach threw the phone and ring someone's neck.